Visitors say Hunger Market Cafe "Well Lit" by Light Studio LA
Recently I was invited to consult on the interior lighting design for the Hunger Market Café in West Hollywood. It was a challenge because David Reinke and Kevin Milligan had a tight budget,a limited time frame, and did not want the space to look generic and uninteresting.
David and Kevin wanted the Hunger Market Café to be warm and cozy, a place where their customers would feel "at home".
So, in order to demonstrate, I walked them to a nearby coffee house. It was intimate and friendly. I pointed out how important the ceiling color was for setting the mood. I also told them that by putting light only where it was necessary, we could make their market feel cozier. They immediately responded and we quickly defined some parameters that got me started on the design.
By replacing the existing white tile ceiling with a dark brown tile ceiling, the ceiling felt like it had actually been lowered. This created intimacy.
As for the lighting, I suggested that we eliminate some of the existing ceiling fixtures as well as adding a few well-placed spotlights for the tasks at hand– such as accepting payment and wrapping take-out food. This made the space feel cozier– and cut energy use as well! (It feels great when an aesthetic choice is so practical.)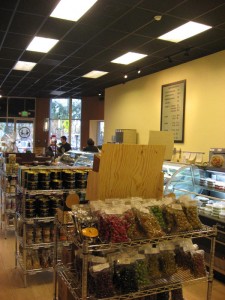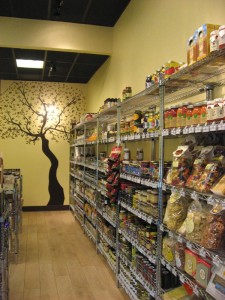 Just wanted to say how pleased I am that the online reviews for Hunger Market Café have been positive. Also, I was thrilled by this comment posted @ Yelp.com by a San Diego man:
"I came with a girlfriend on Monday for a bite of lunch, I'm glad we did. The cafe/market is clean, well lit, and set up nicely with indoor or out door seating."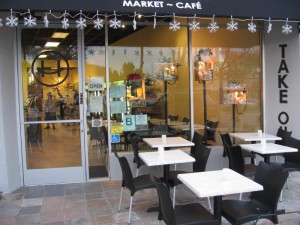 How nice that somebody who was looking for a fine meal actually noticed the lighting design!